About Carol Meeks,
The Music Teacher
Musician Carol Meeks is the owner of Temecula Valley Music for Young Children. She is passionate about instilling love and appreciation for music in young children.
She had the wonderful experience of attending a Paul McCartney concert a few years ago. About half-way through his performance, he introduced a song with the statement, "This one goes out to my music teacher. Where would I be without music?" Carol was thrilled to hear a musician like Sir Paul McCartney recognize the value of music for children, and more specifically, honor his childhood piano music teacher.
Her goal is to instill the love of music in children, where one day they will say with Paul McCartney, "Where would I be without music!"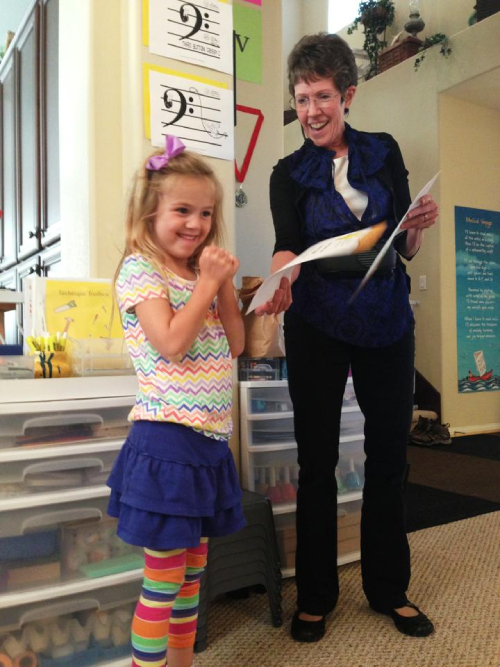 Carol studied in the field of Elementary Education and graduated from North Park College in Chicago, Illinois. She was a first and second grade elementary school teacher before her children were born and has worked with children ever since.
She was a Director of Children's ministries at a church her husband served here in California, teaching Sunday School Classes, Vacation Bible School, directing a children's choir, and co-writing and directing children's musicals. Carol taught Music for Young Children® for seven years in Carlsbad and then brought the MYC program to the Temecula Valley in 2008.
Carol has taught over 700 children through MYC, with many receiving honors for their musical compositions through the annual MYC Composition Festival. Please see the Composition Recital video on our Testimonial Tag.
She also believes in lifelong learning and is therefore receiving continued coaching on her favorite instrument, the piano. Her mentor is a classically trained pianist, Emilie Sinz, who studied piano in Europe and America and also received training at the Dorothy Taubmann Institute. At this time, Carol receives continuing educational opportunities through MYC conferences, webinars, and workshops.
Music For Young Children®
Music for Young Children® (MYC) is a wonderful, innovative, comprehensive curriculum that has combined the best of two worlds for Carol, music and teaching. It makes learning piano fun and leads to success through hands-on involvement and parent participation.
It is a joy to watch the children, and even some parents tap into their creative talents and become budding piano musicians. And yes, in her 20 years of teaching MYC, she has had parents who continue with private piano lessons right along with their children, when their students graduate from the MYC program.
For more information about Music for Young Children, go to https://www.myc.com/
MYC students develop skills and self-discipline to carry them successfully through their lives, not only in music but also in other areas.
It is a sure, stable foundation for future success in the school classroom. It has even been shown that music students score higher on SATs.
Carol believes that piano music is an essential part of a well-rounded life. Piano lessons are a gift that lasts a lifetime. She feels fortunate to be able to play a role in opening up the world of music for MYC students and their parents.